Food, Health and Wellbeing
FOOD & Well Being
GoldenSparks take pride in our food credentials and what we serve children in the nursery.
We operate a Healthy Eating Policy, children learn about the importance of eating healthily and its benefits and we hope that this will set up lifelong standards of eating well.
All our menus are healthy, nutritious, utilising fresh seasonal ingredients to create tasty and well-balanced meals.
Our fantastic daily menu will provide your child with their all-important 5 a day portions of fruit and vegetables.
At GoldenSparks, the children are involved in family style meals in a group wherein they learn skills like how to set the tables, serve themselves, and have a conversation with others in the table. 
We understand that certain children may have special dietary needs. We are always focused on potential allergens, individual preferences and food habits of our little angels to ensure we cater for all types of dietary requirements and medical conditions.
We offer two hot and nutritious meals per day and healthy snacks are available at certain times during the morning and afternoon sessions. Younger babies have a separate menu.
We invite you to learn more about GoldenSparks by calling for a tour today!
Come and see what makes our health and wellbeing programme stand out.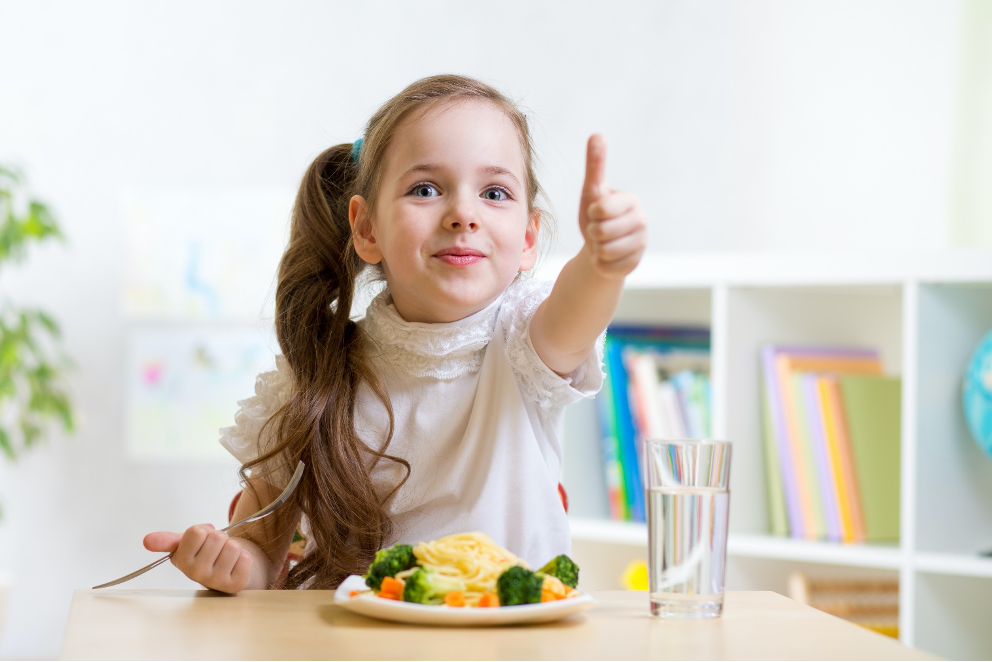 REPRESENTATIVE MEAL PLAN
BREAKFAST (8.15 AM – 9 AM) 
7 Grain Porridge with Millet and Buckwheat, Boiled Eggs, Wholegrain cereal and milk, multigrain toast with butter. toasted waffles
MID MORNING SNACKS (10.00 AM)
Foods: Rice cakes, breadsticks, fruit, raisins, raw vegetables, yoghurt, cheese
LUNCH (11.30 AM)
Monday
Main Course: Roast Chicken in Gravy with Baby New Potatoes/ Vegetarian Option 
Side Dish: Peas, Carrots & Green Beans
Dessert: Black Cherry Fromage / Apricot flapjack and Custard
Tuesday
Main Course: Creamy Chicken Tikka Masala/ Vegetable Korma Curry and Rice  
Side Dish: Grated Cheddar Cheese
Dessert: Crunchy Granola Slice/Smooth Apricot Yogurt
Wednesday
Main Course: Thai Yellow Chicken Curry/ Soya and Vegetable Spaghetti
Side Dish: Sweet Corn, Peas and Cabbage/ Grated Cheese
Dessert: Banana and Cocoa Sponge Slice and Custard/ Apple & Raspberry Crumble Slice and Custard

Thursday
Main Course: Mediterranean Chicken/ Roast Chicken
Side Dish: Sweetcorn Peas, Cabbage/ Potato Butternut & Sweet Potato Mash
Dessert: Raspberry Ripple Ice Cream/ Banana and Cocoa Sponge Slice and Custard
Friday
Main Course: Moldavian Tuna & Mackeral Pasta, Vegetable Pasta
Side Dish: Sweetcorn Peas, Cabbage/ Potato Butternut & Sweet Potato Mash
Dessert: Summer Fruit Granola Slice & Custard/ Pear and Peaches
AFTERNOON SNACKS (2 PM)
Foods: Fresh fruits, raisins, vegetable sticks, yoghurt, cheese
TEA  (3.30 PM)
Flapjack,  Tuna Subroll, Soft cheese flat bread, Lemon and Herb Couscous, Pepper Batons, Vegetable Sticks, Cheese Cubes, Cucumber Slices

LATE EVENING SNACKS (5 PM)
Foods: Fresh fruit, raisins, rice cakes, breadsticks, vegetables/cheese sticks
Note: We have HALAL and VEGETARIAN options based on dietary needs.
Drinks: Lots of FRESH water provided to children throughout the day
We recognise the significant role played by diet and exercise in maintaining a healthy lifestyle. 
With this view, fresh fruit and/or vegetables are always offered to the children when we provide them snacks/lunch in the morning and afternoon. 

Apart from these, examples of snack foods include cheese, bread sticks, toast, cereal, rice cakes, crackers, pancakes with milk or flavoured water to drink. 
We benchmark our weekly menu to provide the following. Please see the weekly menu
1) At least 1 portion of Carbohydrate  
2) At least 1 portion of Protein 
3) 5 a day fruits
4) 5 a day vegetables
5) Calcium in the form of cheese, yogurt, milk.
6) Nuts and seeds with high levels of polyunsaturated fats (omega-3 fats and omega-6 fats) which are broken, chopped, or ground into meal.
We would like to mention few things that we do at GoldenSparks, which is very effective and possibly parents can do it as well at home for the well being of your child. 
We take care that at least one portion of Vitamin C in the form of fruits/ vegetables are provided to the babies/toddlers in their diet at GoldenSparks, This helps the body's natural defense mechanism and acts as an antioxidant. 
We believe in strong partnership between child, parent and GoldenSparks, and greatly appreciate the full support from all the parents.
Please let us know if anything else will help your child in his/her overall wellbeing.
Development , Care and Well being of our children – that's what we wake up every morning for!
Team GoldenSparks